ARE YOU LOOKING FOR A NEW DENTIST?
We warmly welcome you in the Stuttgart area. We are well aware of the challenges people have to face when living abroad. Working together with expats for over 20 years now we are happy to support you – not only in denstistry – true to our motto: "My pleasure to make you(r) smile!"
ARE YOU IN PAIN OR HAVE A DENTAL PROBLEM?
To eliminate your pain dental emergencies should be handled promptly. We do our best to offer same day treatments. With our full menu of general, restorative and cosmetic dental services, we are confident that we can restore your smile to optimal health, function and aesthetics.
ARE YOU INTERESTED IN A SPECIFIC PROCEDURE?
We offer a full menu of general dental treatments for every member of your family. With the post gradual accreditation in esthetic-reconstructive dentistry we also focus on so called full mouth rehabilitations, also for patients with a very high anciety level, covering all fields in dentistry.
Welcome to the dental office Dr. Robert Strohkendl MSc.

in Stuttgart-Vaihingen
If you are looking for a dental office that puts you first, then you will be right at home with Dr. Robert Strohkendl MSc. and team. We offer the best in general dentistry including, among other things, biomimetic dentistry, implantology and prosthodontics. Because dental care is such a personal undertaking, we treat our patients with the respect and sensitivity that the profession demands.
We dedicate ourselfs not only to your physical comfort, oral health, and overall well-being. We also do our best to support you with any administrative issues.
Our Amenities
A visit to the dentist can be a stress-inducing ordeal. To make your visit as smooth as possibe, we offer the following amenities:
FREE PARKING IN OUR PARKING GARAGE
For your pleasant arrival we offer free parking in our parking garage. Please have a look at the video clip to make yourself familiar with the parking situation.
WE ACCEPT ALL COMMON CREDIT CARDS
To make the billing procedure as simple as possible, we accept – beside cash – all common credit cards. If you wish for a payment by installments, we work together with the billing company DZR.
FRIENDLY OPENING HOURS
Today's hectic lives call for creative scheduling in order to get everything accomplished. That is why our opening hours cover early morning appointment from 7 am on as well as late evening appointment until 8 pm.
MAKING A PHONE CALL
We know it can be challenging to call an office not knowing if someone speaks English. In our office, there is always someone available who speaks English, so please just let us know, that English is your favorite language.
The Secret of Success
Dentistry is a matter of trust. We are absolutely aware of this. That is why we always look at a patients situation from all different angles to make sure to decide – with the patients agreement – for the best suitable treatment possibility.
LATEST TECHNOLOGY
Therefor we use latest technology to provide high end dentistry e.g. cone beamt CT planning for implantation or digital impression taking for prosthodontics.
BIOMETRIC DENTISTRY
We provide biomimetic dentistry, which is actually a process of conservative restorative dentistry, which mimic natural teeth in appearance, function and strength.
BACKWARDS PLANNING
Whenever possible we show the patient the final result first and then plan the therefor needed treatment steps backwards, e.g. Wax-up or Mock-up for prosthodontic work.
OWN DENTAL LAB
Our prosthodontic work is produced by our very own dental lab. Therefor we are able to provide you with everything under one roof – another secret of our success.
Client Testimonials
Don't take our word for it – here's what our clients say:
Dr. Strohkendl and his team has made an excellent job to remove my wisdom teeth. It was a complicated surgery and I really felt nothing! Before the treatment there was a checkup and he explained in detailed what would happen and what he is going to do etc. After that I got a to-do (well, rather a not to-do) list to get well soon as quick as possible. If you need a professional dentist I would highly recommend Dr. Strohkendl and his team!
Very well done and thank you so much again!
Krisztian Hajdu
My experience was totally positive. Everyone at the center has always been friendly, caring and professional. The staff all spoke excellent English and service was outstanding. Dr Strohkendl in particular is always very patient, professional, and most importantly a great dentist!
Nan Ke
I had a great experience at Dr. Strohkendl dental office. Being an american overseas it is hard to find a english speaking dental office that can explain everything to you and make you feel comfortable. The office are close to the bases. The work that they do is great. Dr. Stohkendl is very knowledgeable and professional. I love how my teeth looks. I highly recommend this place.
Edwidge Romain
How you can reach us by car
Our office is conventiently located in the industrial zone of Stuttgart Vaihingen-Möhringen (Synergiepark), close to the American bases and easily accesable from the A8, A81 or B27 as well as from downtown Stuttgart.


In the video you can see how you can access our parking garage and find your way to our office.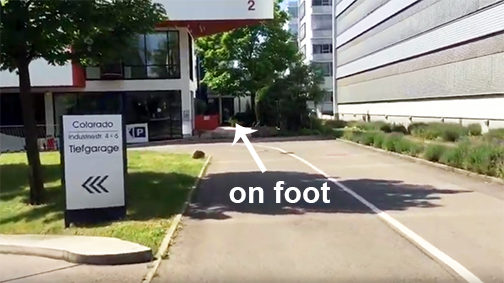 How you can reach us with public transportation
Located directly next to the Stuttgart Vaihingen Station you can also reach us conveniently by S-Bahn (S1, S2, S3) or by U-Bahn (U1, U3, U6). Please take the exit towards the industrial zone. We are only 15 minutes away from Stuttgart Airport (S2, S3) or Stuttgart Main Station (S1, S2, S3).


In the video you can see how you can find your way on foot from the station exit.